Product Description
FCL Flexible Couplings:
Flexible Coupling Model FCL is widely used for its compact designing, easy installation, convenient maintenance, small size and light weight. As long as the'relative displacement between shafts is kept winthin the specified tolerance, the coupling will operate the best function and a longer working life, thus it is greatly demanded in medium and minorpower transmission systems drive by moters, such as speed reducers, hoists, compressor, spining &weaving machinery and ball mills, permittable relative displacement:
Radial displacement 0.2-0.6mm; Angle displacemente 0º 30′–1º 30′
 

Summary
Flexible Couplings Model FCLis widely used for its compact designing,easy installation,convenient maintenance,small size and light weight.As long as the relative displacement between shafts is kept within the specified tolerance,B couplings will operate the best function and have a longer working life.Thus it is greatly demanded in medium and minor power transmission systems driven by moters,such as speed reducers,hoists,compressos,conveyers,spinning and weaving machines and ball mills.
Permittable relative displacement:
Radial displacement:0.2~0.6mm
Angle displacement:0°30′~1°30′

Size chart & Parameter

Type
 
 
Max torque
N.m
 
 
Max speed
r/min
 
 
D
 
D1
 
d1
 
L
 
C
 
n-M
 
kg
 
FCL90
 
4
 
4000
 
90
 
35.5
 
11
 
28
 
3
 
4-M8×50
 
1.7
 
FCL100
 
10
 
4000
 
100
 
40
 
11
 
35.5
 
3
 
4-M10×56
 
2.3
 
FCL112
 
16
 
4000
 
112
 
45
 
13
 
40
 
3
 
4-M10×56
 
2.8
 
FCL125
 
25
 
4000
 
125
 
50
 
13
 
45
 
3
 
4-M12×64
 
4.0
 
FCL140
 
50
 
4000
 
140
 
63
 
13
 
50
 
3
 
6-M12×64
 
5.4
 
FCL160
 
110
 
4000
 
160
 
80
 
15
 
56
 
3
 
8-M12×64
 
8.0
 
FCL180
 
157
 
3500
 
180
 
90
 
15
 
63
 
3
 
8-M12×64
 
10.5
 
FCL200
 
245
 
3200
 
200
 
100
 
21
 
71
 
4
 
8-M20×85
 
16.2
 
FCL224
 
392
 
2850
 
224
 
112
 
21
 
80
 
4
 
8-M20×85
 
21.3
 
FCL220
 
618
 
2550
 
250
 
125
 
25
 
90
 
4
 
8-M24×110
 
31.6
 
FCL280
 
980
 
2300
 
280
 
140
 
34
 
100
 
4
 
8-M24×116
 
44.0
 
FCL315
 
1568
 
2050
 
315
 
160
 
41
 
112
 
4
 
10-M24×116
 
57.7
 
FCL355
 
2450
 
1800
 
355
 
180
 
60
 
125
 
5
 
8-M30×50
 
89.5
 
FCL400
 
3920
 
1600
 
400
 
200
 
60
 
125
 
5
 
10-M30×150
 
113
 
FCL450
 
6174
 
1400
 
450
 
224
 
65
 
140
 
5
 
12-M30×150
 
145
 
FCL560
 
9800
 
1150
 
560
 
250
 
85
 
160
 
5
 
14-M30×150
 
229
 
FCL630
 
15680
 
1000
 
630
 
280
 
95
 
180
 
5
 
18-M30×150
 
296
 

 
Company Profile
l  The largest manufacturer and exporter of worm gear reducers in Asia.
l  Established in 1976, we transformed from a county owned factory to private 1 in 1996. HangZhou SINO-DEUTSCH POWER TRANSMISSION EQUIPMENT CO.,LTD is our new name since 2001.
l  We are the first manufacturer of reducers and gearboxes in China who was given export license since year 1993.
l  "Fixedstar" brand gearboxes and reducers are the first owner of CHINA TOP BRAND and Most Famous Trade Mark for reducers.
First to achieve ISO9001 and CE Certificate among all manufacturers of gearboxes in China.
As a professional manufacturer of
 worm gearbox and worm gear reducers in China, we mainly produce reduction gearbox,aluminum case worm gearboxes,arc gear cylindrical worm gearboxes, worm gear reducers, in line helical gearboxes, and cyclo drive reducers, etc. These products feature rational structure, stable performance, and reliable quality, and so on. They are widely used in power, mining, metallurgy, building material, chemical, food, printing, ceramic, paper-making, tobacco, and other industries.
We have 600 workers in our factory, which covers 70,000 square CZPT in HangZhou. We have been making 2,500 units of reducers everyday since 2012. We are proudly exporting 70% of our products to more than 40 countries all over the word. Our customers come from Italy, Germany, USA, Canada, Spain, UK, Mexico, Brazil, Argentina, Turkey, Singapore and other main industrial countries in the world. 30% of them are OEM made for direct manufacturers of other products. 
We warmly welcome customers from other parts of the world to visit us. Seeing is believing. We are very confident that after visiting our facility, you will have confidence on our products. We have the latest automatic equipments and experienced workers to ensure the stable quality and large output. We have the most sophisticated technical and engineering team to support most demanding requirement on standard and OEM products.
Looking CZPT to meeting you in HangZhou, China.
| | |
| --- | --- |
| Connection: | Flange |
| Structure: | Disc |
| Flexible or Rigid: | Flexible |
| Material: | Iron |
| Standard: | Standard |
| Size: | 90-630 |
Customization:

Available

|

Customized Request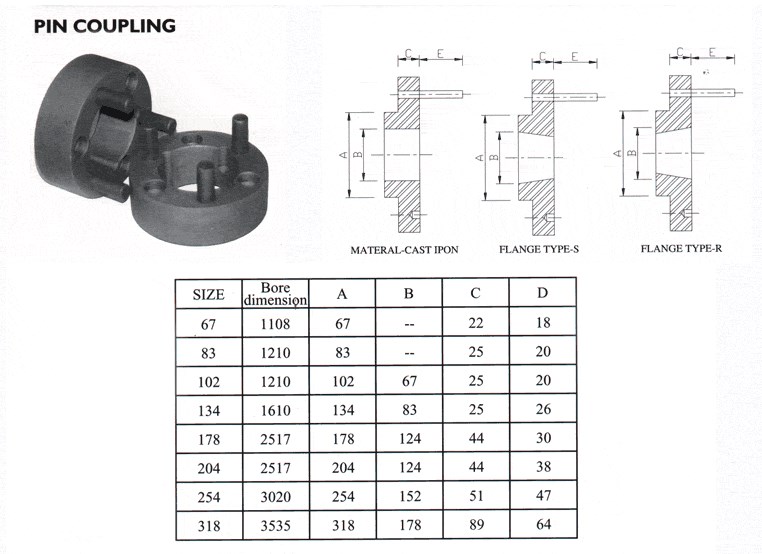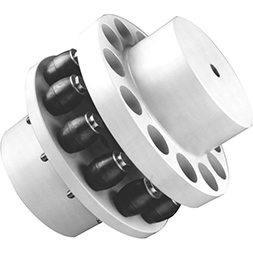 How Does a Pin Coupling Protect Connected Equipment from Shock Loads and Vibrations?
Pin couplings are designed to provide excellent protection to connected equipment from shock loads and vibrations, ensuring the smooth and reliable operation of the machinery. The unique features of pin couplings contribute to their ability to absorb and dampen shock loads and vibrations effectively:
Flexibility: Pin couplings possess a certain degree of flexibility due to the presence of movable pins. When subjected to sudden shock loads or vibrations, the pins can flex and move slightly, absorbing the impact and preventing it from transmitting directly to the connected equipment. This flexibility helps in reducing stress and minimizing the risk of damage to the machinery.
Torsional Compliance: The pin coupling's design allows for a certain amount of torsional compliance. This means that when the connected shafts experience slight misalignments or angular displacements, the pin coupling can compensate for these variations without causing additional stress or vibration in the system. This feature ensures that the machinery remains in proper alignment even under dynamic conditions, reducing wear and tear.
Damping Characteristics: The presence of movable pins introduces damping characteristics to the coupling. When vibrations occur in the system, the pins can dampen these oscillations, preventing resonance and the amplification of vibrations. This damping effect improves the overall stability and performance of the machinery.
Strength and Resilience: High-quality pin couplings are constructed from durable materials with excellent fatigue resistance. This enables the coupling to withstand repeated shock loads and vibrations over an extended period without compromising its integrity. The strength and resilience of the pin coupling contribute to the protection of the connected equipment.
Overall, pin couplings are reliable and versatile components that can effectively protect connected equipment from shock loads and vibrations. Their flexibility, torsional compliance, damping characteristics, and robust construction make them suitable for various industrial applications where shock and vibration mitigation are essential for maintaining the health and longevity of machinery and equipment.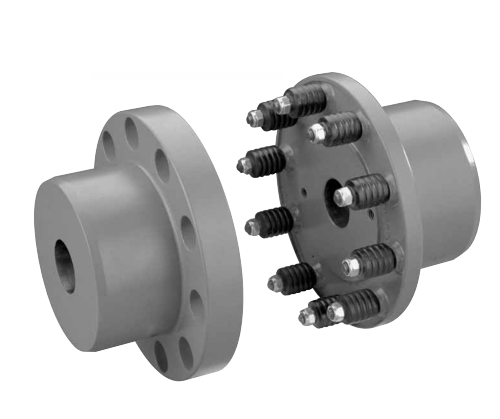 What Industries Commonly Use Pin Couplings for Power Transmission?
Pin couplings are widely used in various industries for power transmission due to their ability to accommodate misalignment and provide reliable torque transmission. Some of the industries where pin couplings are commonly employed include:
1. Manufacturing: In manufacturing processes, pin couplings are used in conveyor systems, mixers, agitators, and other machinery to transfer power between motors and driven equipment.
2. Pulp and Paper: The pulp and paper industry uses pin couplings in machinery such as pumps, fans, and rotary kilns for continuous power transmission.
3. Chemical and Petrochemical: Pin couplings find applications in chemical processing plants, refineries, and petrochemical facilities for various rotating equipment.
4. Water and Wastewater: Pin couplings are used in water treatment facilities, pumps, and blowers to transfer power efficiently.
5. Steel and Metal Processing: Steel mills and metal processing plants utilize pin couplings in rolling mills, extruders, and other equipment.
6. Food and Beverage: Pin couplings are employed in food processing machinery, packaging equipment, and conveyor systems.
7. Mining and Quarrying: The mining industry uses pin couplings in crushers, conveyor belts, and various mineral processing equipment.
8. Oil and Gas: Pin couplings are used in the oil and gas sector for pumps, compressors, and drilling equipment.
9. Power Generation: In power plants, pin couplings are used in turbines, generators, and other power transmission systems.
10. Construction and Heavy Equipment: Pin couplings find applications in construction machinery, earthmoving equipment, and other heavy-duty machinery.
11. Agriculture: In agricultural machinery, pin couplings are used in tractors, irrigation systems, and grain processing equipment.
These are just some examples of the industries where pin couplings are commonly used. Pin couplings offer versatility, ease of installation, and reliability, making them suitable for a wide range of applications in different sectors where power transmission is essential.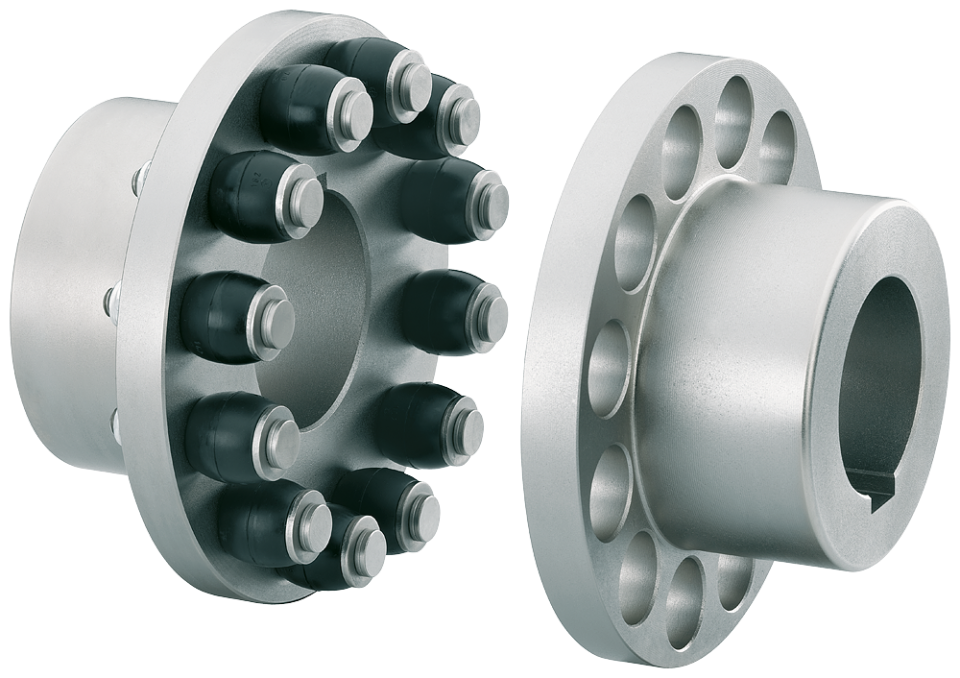 Limitations and Disadvantages of Using Pin Couplings
While pin couplings offer various advantages and are suitable for many applications, they also have some limitations and disadvantages to consider:
Misalignment Restrictions: Pin couplings can accommodate a certain degree of misalignment, but excessive misalignment can lead to increased wear and stress on the coupling components. They are not as effective at handling large angular or parallel misalignments compared to other flexible couplings like gear or elastomeric couplings.
Less Damping Capacity: Pin couplings have limited damping capacity, which means they may not effectively absorb and reduce vibrations in the system. In applications where vibration damping is critical, elastomeric or flexible couplings may be more suitable.
Noisy Operation: The rigid nature of pin couplings can lead to increased noise during operation, especially at high speeds or in applications with significant misalignment. This noise can be a concern in environments where noise levels need to be minimized.
Higher Maintenance: Compared to maintenance-free couplings like certain types of elastomeric couplings, pin couplings may require more frequent inspection and maintenance. The pins and other components may experience wear over time and need replacement.
Environmental Limitations: Some pin couplings may not be suitable for use in corrosive or high-temperature environments, depending on the materials used. Stainless steel or other corrosion-resistant materials can help mitigate this limitation.
Size and Weight: In certain applications, the size and weight of pin couplings may be larger and heavier compared to other types of couplings. This can be a consideration in applications where weight is a concern or space is limited.
Despite these limitations, pin couplings remain a popular choice for many applications where their advantages, such as simplicity, durability, and cost-effectiveness, outweigh their disadvantages. It is crucial to carefully assess the specific requirements of the application and consider factors like misalignment, vibration, maintenance needs, and environmental conditions when selecting a coupling type.



editor by CX 2023-08-22